Kieron appears today (Sat 12th October) on the front page of national newspaper the Independent.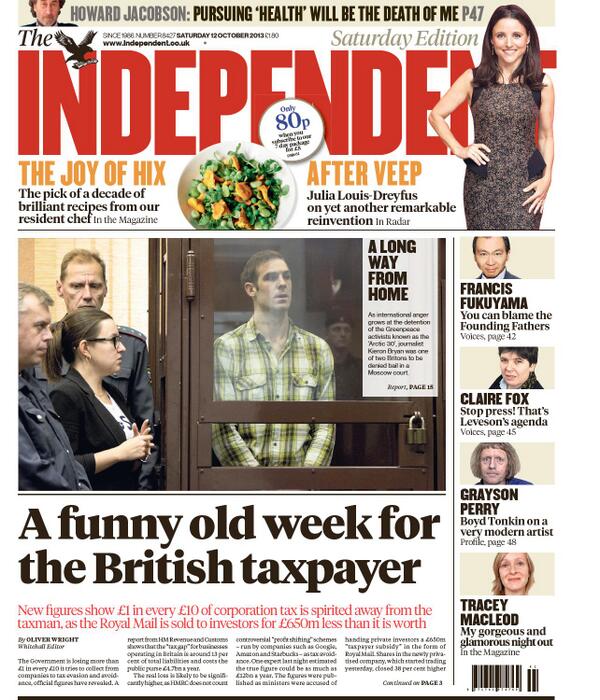 Inside the paper, this article quotes US Secretary of State Hillary Clinton:
http://www.independent.co.uk/news/world/europe/hillary-clinton-calls-for-outcry-over-jailed-greenpeace-activists-8873840.html
"There should be a greater international outcry over Russia's arrest of Greenpeace activists and charging them with piracy."
US - Russian relations are arguably not at a peak right now, but nevertheless having someone of Hillary Clinton's stature speak out in support of the thirty detainees is certainly a positive.
Yesterday's raw footage of the court hearing released by Greenpeace is also on Youtube here:
https://www.youtube.com/watch?v=ONUfjLFvM44
A friend of the Free Kieron campaign asked a Russian-speaking friend for a translation:
"It's very patchy, and many fragments are not very comprehensible. However, what [can be understood] goes as follows: 1) The judge, through the interpreter, announces to Kieron Bryan his rights (including the right to demand recusation [sic] of the judge, the prosecutor, the interpreter). 2) The attorney mentioned that the "vessel" was not properly registered -- the judge then referred to certain documents from the notary officer that, allegedly, proved the opposite. 3) The attorney argued that the platform was "an island", while only a movable object not attached to the sea bed can be considered a vessel -- the judge announced that the request for appeal has been rejected.""
More details of the argument used by Kieron's lawyer, regarding the legal status of the oil platform as a island, not a vessel, can be found here in this Voice of Russia article:
http://voiceofrussia.com/news/2013_10_11/Custodial-term-of-UK-cameraman-from-Arctic-Sunrise-upheld-by-Murmansk-court-0414/
"Bryan's legal team argued that the lower court overlooked the fact that the UK cameraman was not bound by any contracts to Greenpeace, and was present on the Arctic Sunrise as an independent journalist.
His lawyers also said that the environmentalists' actions could not be described as an act of piracy, which suggests an attack on a vessel, because the Prirazlomnaya oilrig is an artificial island, not a vessel."
Voice of Russia also carried this article relating to the letter sent to President Putin by Kumi Naidoo, director of Greenpeace International:
http://voiceofrussia.com/news/2013_10_11/Putin-not-interfering-in-legal-action-vs-Greenpeace-activists-spokesman-1391/
Putin's spokesman makes it very clear that the President has no influence over the actions and conclusions of the investigative committee.
""Again, the president is not and cannot be responsible for discussing investigative procedures. This is not in the president's competence. Thus, he is unlikely to be involved in any discussion regarding these ongoing investigative procedures," Peskov said."
I have managed to track down most of Russell's many media appearances. Thursday's BBC Radio Five Live interview can be found here:
http://www.bbc.co.uk/news/uk-24474851
Thursday's Al-Jazeera English piece is here:
http://www.aljazeera.com/video/europe/2013/10/greenpeace-concerned-detained-activists-20131010232614193113.html
.
Friday's Radio Five Live appearance, just after bail was refused, can be found here:
http://www.bbc.co.uk/programmes/b03c46nj
from 1 hr 39 minutes.
ITV coverage can be found here:
http://www.itv.com/news/london/story/2013-10-11/greenpeace-activists-refused-bail-russia/
This includes a interview with Harriet Harman in which she expresses her firm support for Kieron. Correspondent Simon Harris does a great job in the studio explaining Kieron's position as a journalist.
Channel 4 News video here,on which the island vs ship argument is touched on:
http://www.channel4.com/news/catch-up/display/playlistref/111013/clipid/111013_4ON_GREENY_11
Channel 5 News:
https://www.youtube.com/watch?v=bLQOcavro6c
I have so far been unable to find the Sky News clip from Friday, however I did find this from last week which includes a brief appearance from Andy:
https://www.youtube.com/watch?v=1MlpVa1k2CI
Peter Willcox, captain of the
Arctic Sunrise
, has been fined 20,000 rubles for not following coastguard instructions :
http://lenta.ru/news/2013/10/09/captain/
(in Russian). Willcox remains imprisoned along with the other twenty-nine.
Canadian newspaper the
Toronto Star
carried this editorial:
http://www.thestar.com/opinion/editorials/2013/10/10/time_to_chill_russias_arctic_ire_over_greenpeace_protest_editorial.html
These legal textbooks give more detail about piracy. As you'd expect, it's not light reading.
https://www.dropbox.com/s/u0j38nbth9o0bft/piracy%20information%20UN.pdf
https://www.dropbox.com/s/hflf9q7g5578x16/piracy%20background%202.pdf
According to one of these: 'The definition of piracy is somewhat obscured... '. This may all become very relevant depending on the progress of the Dutch legal action.
I have created a page about
how to write to Kieron
. There are some strict rules about what you can and cannot say, and currently parcels cannot be sent as there are numerous complications with Russian customs and with limits on what can be brought in to the prison. Jess has this to say on the matter:
"Sorry about this [the parcel situation], please do write him letters though, although you will have to type them, translate them and print them which i know is not as personal as a handwritten letter but will still be a huge source of entertainment and comfort for him."
News has come from Cornwall of the Free Kieron Coffee Morning held today in Bude, which was a great success and very well attended. Total raised is currently estimated at £1,600. Thanks for Fran Lovett for organising this. We are working on a method for online donations to the Free Kieron fund - once this is all in place details will be posted here.
Keep spreading the word. The more people that know, the more people that can help to Free Kieron.